AIR FREIGHT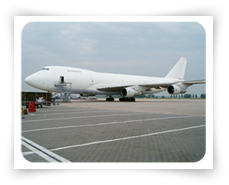 With years of experience in the freight industry, Jani Shipping & Logistics Pvt. Ltd. are known for offering reliable and efficient air-freight forwarding service throughout the world.

With an excellent network of operators who are available 24 hours a day and seven days a week, we promise a timely and cost effective delivery of goods to the desired destination.

Jani Shipping & Logistics Pvt. Ltd. global airline partnerships to offer lowest - price, transit time, fixed allocations and lift capacity of carriers in each major trade lane and their ability to add efficiency to our clients' supply chain management.
Some of the salient features are:
Worldwide Consolidation Services.
Cargo pick up from warehouse of the consignee
Expediting / Vendor Management.
Export clearance at the country of origin.
Import clearance of cargo at the port of discharge.
Export packing in-house
Documentation specialists
Track and Trace System
Safe handling of General cargo / Perishable cargo
Door-to-Door Express Products.